March 8, 2023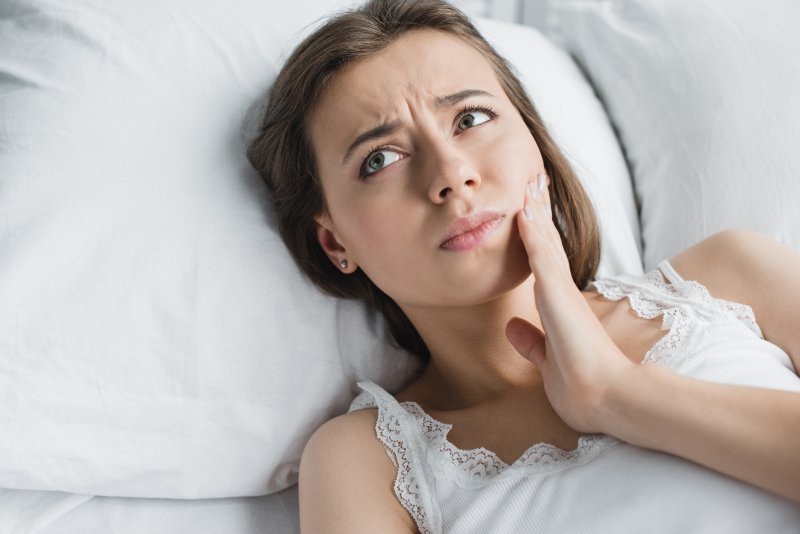 After a good night's sleep, most people hope that they'll feel happy, refreshed, and ready to take on the day. However, sometimes life can be a lot tougher than that.
It can be hard to get a refreshing night's sleep for all kinds of reasons, and one of them is pain. Have you ever woken up in the morning with a sore jaw? There may be a good reason for that; here's what that could be.
Why Does My Jaw Hurt in the Morning?
There are all kinds of reasons that your jaw could hurt, but if your jaw hurts specifically in the morning when you've just woken up, one reason could be that you're grinding your teeth in your sleep without realizing it.
Sleep bruxism, or grinding teeth at night, can put your jaw under a lot of pressure. Over time this can have serious negative effects on your oral health, including chronic jaw pain.
What Causes Bruxism?
If you grind your teeth, there are a few reasons why that may be the case. Some risk factors have to do with your day-to-day habits, like caffeine or nicotine use, but it may also be the case that something deeper is happening.
One cause could have to do with a misalignment of the TMJ, or the Temporomandibular Joints. These small joints are located just beside the ear and are responsible for connecting the jaw to the rest of the face. Such a misalignment is known as a TMJ Disorder.
TMJ disorders not only cause bruxism, but chronic pain whenever you open or close your mouth. This can also be associated with some stranger symptoms due to the TMJ's proximity to the inner ear, like nausea and headaches.
What Can Be Done About TMJ Disorders?
If you have a TMJ disorder, your dentist can help you. This usually comes in the form of an oral appliance of some kind designed to adjust the alignment of your jaw. Often these are mouthpieces worn while you sleep, though in some cases your dentist may also recommend more involved orthodontic treatment.
About the Author
Dr. Kinnari Jariwala's favorite part of her job is being able to help patients to understand sleep problems that they might have been dealing with for their whole lives and finally get the rest that they deserve. Dr. Jariwala received her dental doctorate from the University of Missouri-Kansas City School of Dentistry. Since graduating she has completed many hours of continuing education, particularly focused on sleep and TMJ therapy.
If you have any questions about TMJ, she can be reached at her website or by phone at (505) 433-2107.
Comments Off

on Why Does My Jaw Hurt When I First Wake Up?
No Comments
No comments yet.
RSS feed for comments on this post.
Sorry, the comment form is closed at this time.