February 2, 2023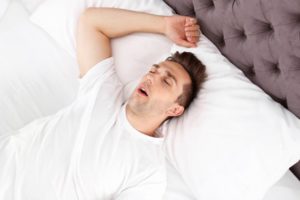 Historically, things such as impulsive behavior, forgetfulness, and trouble paying attention are often signs of ADHD (attention-deficit hyperactivity disorder); however, did you know that they can also be signs of lack of sleep? And unfortunately, one of the most prominent causes of sleep disruption is sleep apnea. Even suffering from just one of these conditions can be troublesome; however, due to the overlap in symptoms between ADHD and sleep apnea, both together can be quite detrimental if left unaddressed! Keep reading to learn a little more about the link between these two conditions and some possible solutions for addressing each one.
The Link Between Sleep Apnea and ADHD
Even though sleep disorders are relatively common, they're rarer in children—but still just as harmful if left untreated. Sleep apnea is a disorder where a patient's breathing is repeatedly interrupted during sleep, often due to airway blockage. These pauses in breathing cause the brain to receive stress signals, which then leads to the body waking up to restore normal breathing patterns. As a result, the individual does not get enough sleep each night—which in turn spells bad news for their overall health and can lead to a wide variety of issues.
ADHD, on the other hand, is characterized by symptoms including inattention, hyperactivity, and impulsivity. These symptoms can interfere with productivity and navigating social situations, but if left unaddressed, they can also lead to insomnia and other sleep conditions. People with ADHD are more likely to experience shorter sleep times, problems falling and staying asleep, and even nightmares, all of which can complicate sleeping patterns.
Solutions for Sleep Apnea and ADHD
If you believe you or a loved one is suffering from sleep apnea, the best thing you can do is seek out a sleep apnea diagnosis; when and if the condition is realized, treatment can be prescribed. Often, sleep apnea can be treated with oral appliance therapy, the help of a CPAP machine, or other options depending on the circumstances. Meanwhile, ADHD can be treated with a combination of medication and therapy.
It's also worth noting there are things you can do on your own to lessen the impact that sleep apnea and/or ADHD has on your life, including:
Cutting off sugar, caffeine, and alcohol intake within a few hours of bedtime.
Avoiding screen time before going to bed, as well as stimulating activities that require focus.
Establishing your bedroom as a quiet, comfortable, and stress-free zone.
Going to bed and waking up at the same time every day.
Both sleep apnea and ADHD can be treated and managed; however, when left unaddressed, these conditions can have profound consequences. That said, you shouldn't hesitate to get the ball rolling and seek treatment; your sleep is far too valuable to give up on!
About the Author
Dr. Kinnari Jariwala received her dental degree from the University of Missouri-Kansas City School of Dentistry and is a proud member of several professional organizations including the American Dental Association, the American Board of Dental Sleep Medicine, and the notable Academy of General Dentistry, among others. Her practice offers a wide range of services including sleep apnea treatment. If you have any questions about the article or would like to arrange a visit for you or a loved one, you can contact Dr. Jariwala online or over the phone for assistance at (505) 433-2107.
Comments Off

on The Link Between Sleep Apnea & ADHD
No Comments
No comments yet.
RSS feed for comments on this post.
Sorry, the comment form is closed at this time.