December 21, 2022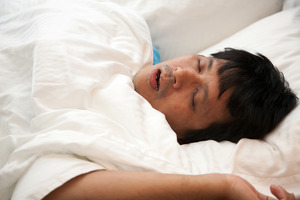 You're likely already aware that sleep apnea is associated with a higher risk of heart attacks, diabetes, and various other health issues. But the disorder can affect your body in other ways as well. In particular, recent studies show that untreated sleep apnea may speed up the aging process. Here's what you need to know about the surprising connection between aging and sleep-disordered breathing – as well as what you can do to protect your health.
How Sleep Apnea Can Affect Aging
It's important to remember that your biological age is not the same as your chronological age. While chronological age refers to how long you've been alive, biological age has to do with the way your body functions. Biological age can be influenced by several factors, not the least of which is the quality of your sleep.
In 2019, a study by the American Academy of Sleep Medicine found that people with untreated sleep apnea showed signs of accelerated biological aging. The study showed that the link seemed to be particularly strong in women compared to men. Also, the severity of the disorder made a difference; the worse the individual's sleep apnea was, the more of an impact it seemed to have on their biological age.
What Should You Do If You're Suffering from Sleep Apnea?
The good news is that the effects of accelerated aging can be reversed if you can get your sleep apnea under control. As such, you should get in touch with a sleep dentist if you have any reason to think that you might be suffering from sleep apnea. Snoring is one of the most common symptoms, but there are other warning signs you might notice such as excessive daytime sleepiness, waking up with a dry mouth, and morning headaches.
After your sleep apnea has been properly diagnosed, your sleep dentist can help you explore your treatment options. In many cases, they may recommend wearing an oral appliance that shifts the jaw forward to prevent the airway from becoming blocked; this lowers the risk of your breathing being interrupted while you sleep.
Depending on your needs, your sleep dentist may also recommend laser airway management. The treatment involves using a laser to encourage the tissues near the back of your throat to produce more collagen, causing them to firm up. The firmer these tissues are, the less likely they are to collapse and obstruct your airway during the night.
The effect that sleep apnea has on your body can be alarming, but if you act quickly to get the treatment you need to put a stop to your sleep-disordered breathing, you can avoid the worst effects over the long term.
About the Author
Dr. Kinnari Jariwala earned her dental degree from the University of Missouri-Kansas City School of Dentistry, and since then she has completed many hours of continuing education focusing on sleep medicine. Her Albuquerque practice, Center for Dental Sleep Medicine and TMJ of New Mexico, can help people suffering from sleep apnea enjoy a better night's rest thanks to oral appliance therapy, Nightlase laser airway management, and other treatment options. To schedule an appointment with Dr. Jariwala, visit her website or call (505) 433-2107.
Comments Off

on The Link Between Sleep Apnea and Aging
No Comments
No comments yet.
RSS feed for comments on this post.
Sorry, the comment form is closed at this time.